Shopify accounting is like a GPS navigation system for businesses, guiding them through their financial decisions and helping them make the most of their e-commerce storefront. It can provide greater clarity and accuracy when keeping track of finances while offering features to help automate & streamline day-to-day tasks.
As such, it's essential to understand the accounting basic to make the most of this powerful platform. Here, we provide an overview of accounting, its differences from traditional bookkeeping practices, some common challenges users face, and best practices for managing your accounts when using Shopify.
Key Takeaways
Accounting can make financial management easier for Shopify Sellers. It offers multi-account management, inventory tracking, reporting and analytics, and automation tools to help businesses manage performance more efficiently and automate daily tasks.
Accounting and bookkeeping are two distinct processes. Accounting involves analyzing financial data to gain insights into a business's performance, while bookkeeping entails recording transactions daily.
When choosing accounting software for your Shopify store, you should consider factors such as pricing, security, user-friendliness, automation features, how well it can scale, and its reporting capabilities. Find a solution that meets your budget and has the necessary parts to succeed.
What makes Shopify Accounting Different?
Accounting in Shopify is an intuitive and powerful accounting solution that provides small businesses with greater clarity and accuracy regarding their finances from accounting software. Let's take a closer look at how each feature can help you get the most out of your e-commerce store.
Multi-account Management: Create one or multiple accounts for each aspect of your business, including sales, customer service, and store performance metrics. Easily switch between them as needed to get an overall view of the entire enterprise.
Inventory Tracking: Monitor inventory costs and supplies accurately in real-time so you can make intelligent decisions about what's available and what needs of your order.
Reporting & Analytics: Get detailed financial reporting & analytics on how your store's performance and make data-driven decisions quickly. View key performance indicators (KPIs) such as sales growth, conversion rate, average order value, customer satisfaction scores, and more.
Automation Tools: Automate day-to-day financial tasks with accounting tools, freeing up your staff's time for other essential projects.
The difference between Accounting and Bookkeeping
The main difference between accounting and bookkeeping lies in what each job entails. Have you ever had to create financial statements or tax returns?
That's where accounting comes into play—analyzing data from various sources (such as balance sheets, income statements, and cash flow) to interpret your business's financial performance.
On the other hand, bookkeeping typically requires keeping track of daily transactions like money paid out for expenses or services rendered.
In addition, accountants may use the data gathered by bookkeepers to inform their conclusions and advise clients on how best to manage finances. Accountants may create budgets, while bookkeepers focus more on day-to-day processes like reconciling accounts.
What's the biggest challenge you face when it comes to Shopify Accounting?
One of the biggest challenges in Shopify accounting is sales tax tracking. Depending on the country or region, Shopify store owners may need to charge and collect different sales tax rates for their customers.
Understanding different sales tax compliance requirements are essential, as some items may be exempt from taxation. Keeping track of these regulations can be challenging for business owners unfamiliar with local laws and requirements.
To ensure you're compliant, it's best to consult a knowledgeable accountant or attorney who can guide your situation.
Furthermore, Shopify businesses must remain up-to-date on changing laws and regulations to stay compliant with the law while avoiding potential fines and penalties. Fortunately, Shopify offers built-in tax settings that allow shopkeepers to easily configure their stores to collect appropriate taxes based on the customer's location accurately.
Best Practices for Shopify Accounting
Practical eCommerce accounting is like building a solid foundation for your business. It's the basis upon which all other success will be created. When it comes to Shopify, knowing the best practices for accounting can make or break your online venture. Here are some essential tips to help you get started: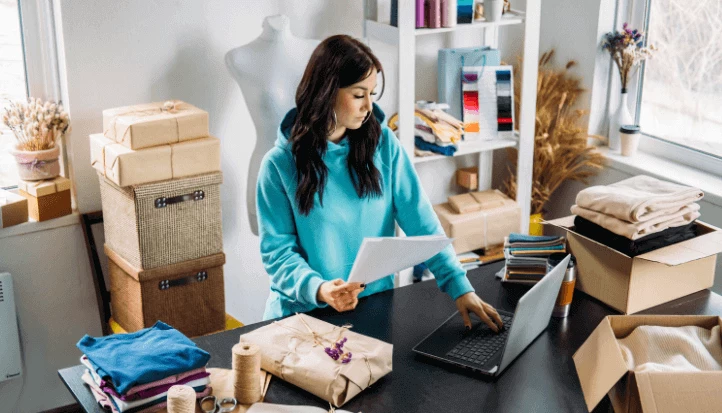 #1: Keep up-to-date records of accounts receivable and payable
The first step in good accounting is keeping accurate accounts receivable and payable records. This step involves tracking and recording transactions, invoices, payments, customer contact information, and more—all in one place. Reasonable software solutions can help streamline this process, giving you one centralized source of truth for all your finances.
#2: Separate personal and business bank account
Having two different bank accounts helps you stay organized and accurately track your financial records. Having separate accounts can also ensure you comply with the IRS's regulations.
Separating your bank account also helps build confidence with customers and other people you work with. It shows them you are taking the necessary steps to protect yourself and them.
#3: Take advantage of deductions
When running a business through Shopify, it's essential to take advantage of deductions available to you under applicable laws and regulations—such as donations made to charity or purchases made as part of research & development efforts. This can save you substantial money while giving back to the community in meaningful ways!
#4: Focus on customer service
For businesses using Shopify, customer service should be a priority regarding accounting solutions. Keeping customers happy is essential for success—so ensure their needs are met promptly and any issues they encounter are quickly rectified by staff members who understand their problems entirely. Doing so provides excellent customer experience and helps ensure repeat sales & referrals too!
#5: Leverage automation
Automation has been hailed as the future of commerce. Not only does it free up time from tedious tasks such as data entry or manual calculations, but it also increases accuracy & reliability thanks to top-notch accounting software. Look into using automated accounting software whenever possible to streamline processes & make sure every stone is turned on when running an efficient store!
How to Choose The Best Accounting Software for Shopify
Choosing the best accounting software for managing finances on your Shopify store is critical to cover all financial reports and bank reconciliation. Some factors you should keep in mind while selecting a suitable cloud accounting software include:
Pricing
Regarding eCommerce businesses, Shopify accounting software options can vary significantly in terms of cost. Look for an accounting tool that fits your budget and has the needed features. Consider factors such as how often you plan to use the program, the number of users accessing it, and how long you plan to use it.
You should also look at customer reviews and ensure that the software has a sound security system to protect sensitive data. Take a look at the pricing plans of popular accounting software such as QuickBooks, Sage, and FreshBooks to find the one that best suits your needs.
| | |
| --- | --- |
| Accounting Software | Pricing plan |
| QuickBooks | $14-50 per month |
| Sage | $10-25 per month |
| FreshBooks | $15-50 per month |
| Xero | $9-60 per month |
Security and privacy
When managing finances online, ensuring all your banking information and financial data are secure is vital; look for third-party apps that can help you cover all accounting tasks, such as: easily tracking transactions and ensuring there are no discrepancies between different accounts.
Additionally, find a solution with solid privacy measures to protect your data from prying eyes or hackers.
User-friendly interface
To get the most out of your Shopify accounting software, looking for one with an intuitive user interface is essential. This interface means quickly accessing key functions such as cash flow forecasts, balance sheets, inventory management features, and more – without needing extensive technical knowledge or training beforehand.
Additionally, consider Shopify accounting apps that allow you to integrate with other Shopify sales or marketing modules too easily.
Discover QuickBooks Online – the best accounting software with a user-friendly interface.
Automation capabilities
Automating routine tasks such as invoicing customers or tracking expenses can save time when managing finances on a Shopify store. Look for solutions that have built-in automation capabilities or are compatible with third-party automation software. With this type of setup in place, much of the manual work associated with traditional bookkeeping processes can be eliminated – freeing up valuable resources for other tasks!
Scalability
When selecting accounting tools for a Shopify store, you should consider scalability carefully. If you're starting, a more straightforward solution may suffice, but if you're looking to grow over time, having access to advanced future cash flow and inventory management tools could become essential.
Be prepared for eCommerce business expansion by researching solutions now before committing.
Reporting capabilities
Acquiring accurate financial reports is essential when managing business finances – whether from a traditional accounting system or Shopify's platform. Look for solutions that offer built-in financial reporting so you have insight into how your store is performing over time & what changes you need to make to ensure future success.
Additionally, many solutions offer customizable dashboard reporting giving quick insight into key performance metrics at any given moment – making decision-making easier & faster than ever before!
Securely Manage Your Shopify Finances with XOA Tax
Are you feeling overwhelmed by the complexities of managing your Shopify store finances? Let XOA Tax Firm help lighten the load! Our experienced team of accountants specializes in eCommerce customers, tailoring our services to meet the unique needs of your business:
Streamlined operations and improved financial visibility, allowing greater control over your finances
Comprehensive advice and support tailored to the unique needs of eCommerce customers
The dedicated team of experienced accountants is available to help you reach your business goals
Customized solutions that will get you back on track quickly and efficiently
Don't hesitate – to reach out today for FREE CONSULTATION.