Tax form 1040 is a critical document for U.S. individuals who want to file their tax returns. The form helps to report individual income tax, deductions, and other tax-related information.
This blog post provides in-depth information about this form so you can understand and complete the form correctly.
What is Form 1040, and what are its uses?
Form 1040 is an IRS tax form used by U.S. individuals to report their income, deductions, and other tax-related information. It also reports tax-related items such as interest income, capital gains, tax payments made in foreign countries, and more.
Therefore, you use this form to report annual income tax to the IRS, request deductions and credits, and calculate your tax refund or owed amount for the year.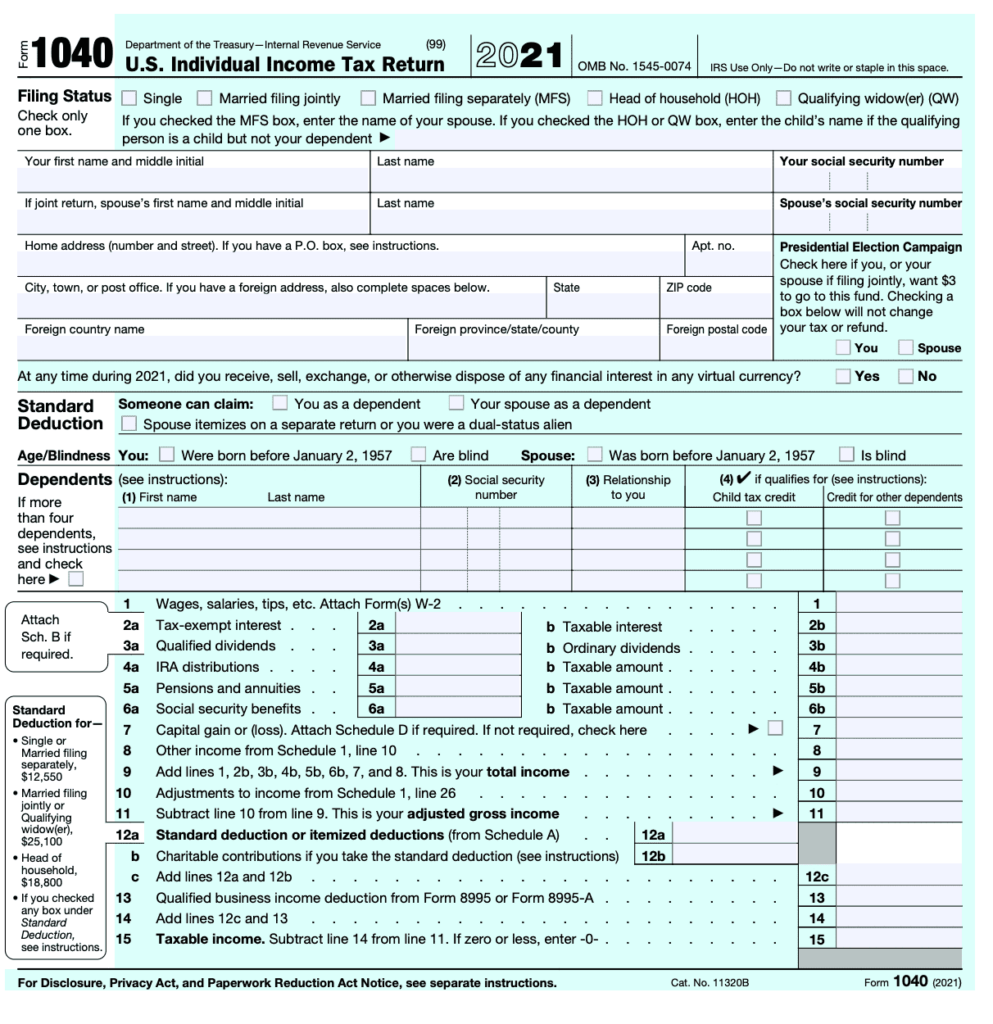 Report tax-related items such as income, deductions, and credits
It allows you to report tax-related items such as annual income tax, income, deductions, and credits.
Besides wages and salaries from W2, you can use this form to report wages and salaries with your filing status and any other income from investments, dividends, interest, or alimony that will help you calculate your annual income tax.
Request a refund from the IRS
You can request a refund through Form 1040. You may claim credits, such as the Earned Income Credit or CTC, that may result in a tax refund if you are eligible.
File your tax returns online or on paper
You can use form 1040 by e-file or on paper. Filing online is the most efficient way to submit tax documents and includes filing your taxable income information. However, you who feel more comfortable filling out paper return and submitting it by mail should print it and file.
Whichever method you choose, understanding this form will make sure that you file your taxes correctly – calculate accurately your annual income tax for a successful filing.
Report additional information about your income and deductions
In addition to reporting other taxes such as income, itemized deductions, and credits, you can also use this form to convey additional information about your taxable income and deductions.
These forms are used in addition to the form and help you provide more detailed information about their tax-related items.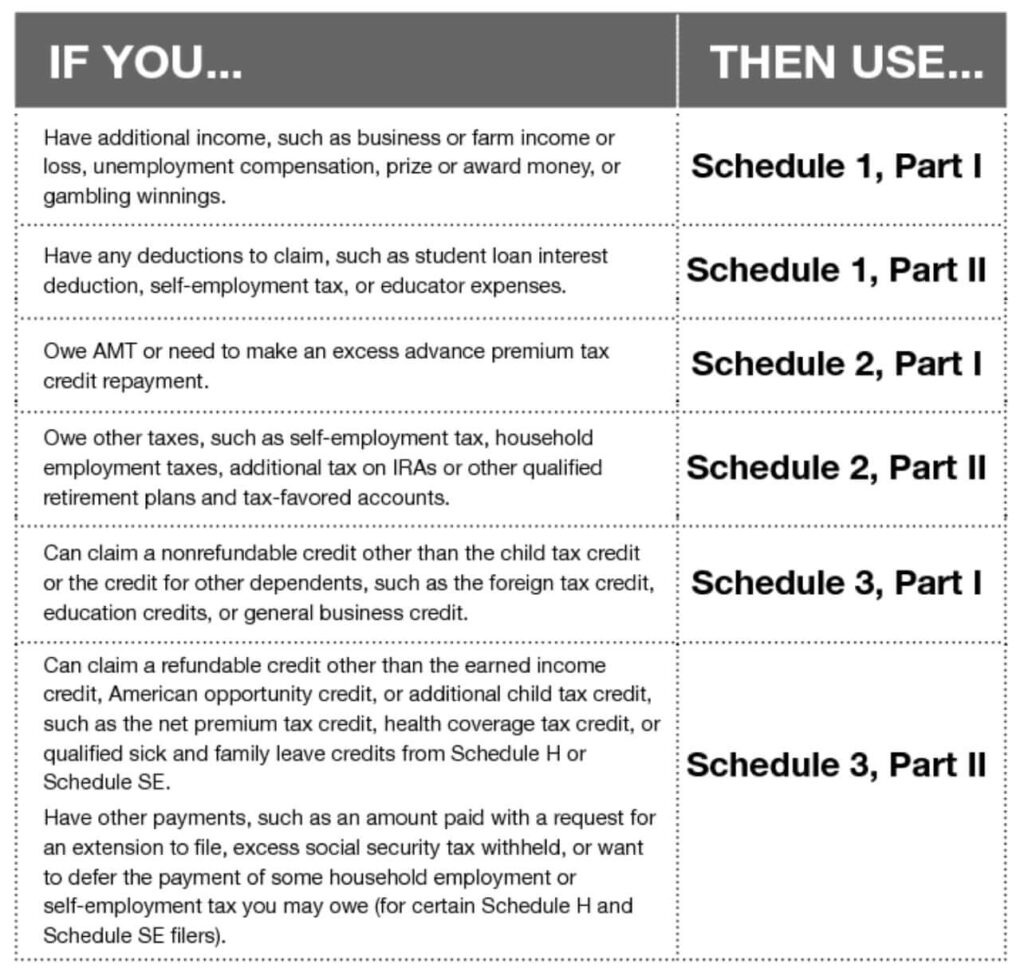 Form 1040 Schedule 1
This schedule reports additional information about taxable income and itemized deductions. The form allows taxpayers to list additional types of taxable income and adjustments to income for your filing status.
Part I of the form includes taxable refunds of state and local income taxes, alimony received, and income or loss from a business.
Part II includes adjustments to income, such as unreimbursed business expenses of military reservists, performing artists, and fee-based government officials.
Understanding this form will help you file your returns correctly.
Form 1040 Schedule 2
With Schedule 2, you can conveniently report additional information regarding extra taxes. The most common types of tax reported on this schedule are the alternative minimum tax, advance premium tax credit repayment, etc.
You should also enter any tax documents not reported elsewhere on your tax return, such as additional Medicare or net investment income tax. When filing taxes, you should complete and attach it to these tax forms: Form 1040, Form 1040-SR, or Form 1040-NR.
At last, make sure you understand the tax information required to complete this form accurately before submitting.
Form 1040 Schedule 3
Taxpayers must submit Schedule 3 to report and accurately claim credits and payments, which includes both nonrefundable and refundable credits. Any related credits that are not reported on IRS Form 1040 must be filed in Schedule 3.
The tax payments and refunds reported on this form include the following:
Federal income tax withheld.
Advanced premium tax credit repayment.
Self-employment taxes.
Other tax payments and credits.
Part I of this form is for federal income tax withheld.
Part II is for self-employment taxes, and other tax payments and credits.
Who needs to file Form 1040?
Form 1040 is required for tax filing by all U.S. individuals, regardless of their tax situation or income level. Therefore, you must file and complete it annually for anyone who earned an income in the tax year. Failing to file this form may result in penalties from the IRS.
As a responsible taxpayer, you must understand IRS Form 1040. You must know how to use it correctly to ensure your taxes are filed accurately and on time. This will help you pay the correct amount of tax and make sure you receive any applicable credits or refunds due to you. Here are the steps to help you complete this form.
What are the different types of Form 1040?
There are types used to report different types of tax-related information.
Form 1040-NR for Nonresident Aliens
Form 1040NR is the federal income tax form for non-residents aliens and foreign individuals. You must file by the due date each year to avoid IRS fines or penalties. US citizens who do not have a green card or meet the IRS's substantial presence test in any given tax year will be classified as non-residents aliens for taxation purposes.
Form 1040-ES
Taxpayers should complete this form who expect to owe at least $1,000 in tax for the year after subtracting their withholding and refundable credits.
Additionally, you expect your withholding and refundable credits to be less than the smaller of:
90% of the tax to be shown on your 2022 tax returns, or
100% of the tax shown on your 2021
It's important to note that form 1040-ES must be completed and filed annually, regardless of your tax situation or income level.
Form 1040-V
The IRS Form 1040-V is a payment voucher that helps taxpayers send the amount for taxes due. It is used to pay federal income tax, estimated taxes, underpayment penalties, additional self-employment tax and other non-refundable taxes.
For those who would rather pay electronically than in cash, the IRS offers a Payment Voucher that can be enclosed with a check or money order and mailed to the IRS.
Form 1040-X
To rectify any errors before submitting your return, taxpayers can use Form 1040X to amend their U.S. individual income tax return with the Internal Revenue Service (IRS).
You can report corrections and changes to the original form 1040 on this amended form, which must be filed within three years of the original filing date or no later than two years after any taxes were paid.
Form 1040-SR
You can use this form by you aged 65 and older. You use this tax form to report your income and tax deductions in a simplified manner. With the proper knowledge, tax season can be less stressful and more straightforward than ever.
By understanding which type of form 1040 applies to your situation and using it correctly, you will be able to pay the correct amount of taxes due promptly.
Can I file my form 1040?
Yes. If you need help understanding form 1040, we have professionals who can help you.
We can provide tax advice and answer any questions about this form. We can assist you in filing your tax return correctly.
Our tax professionals are here to ensure that tax season is hassle-free for you! Get started on your tax filing journey today.
Conclusion
By understanding form 1040 available and using them correctly, individuals can ensure they file taxes accurately and promptly. This will help them avoid unnecessary penalties from the IRS.
You can claim tax credits through form 1040 or receive refunds due to them and has a more straightforward tax season. With the proper knowledge, filing taxes does not have to be intimidating or overwhelming – it can be a breeze. Subscribe to our blog for more tax tips and information.