As a small business owner, one of the most important jobs is keeping accurate and up-to-date records of your finances. Not only does having good bookkeeping practices ensure that you have an informed overview of your business, but it also provides essential information to help make sound decisions.
Unfortunately, not all small businesses have the resources or personnel to manage their financials in-house. Hiring a virtual bookkeeper can provide the expertise and support small businesses need to maintain their financial reports without adding additional staff overhead. However, with so many virtual bookkeepers available, it can take time to determine which service will provide the best value for your business needs.
Key Takeaways
Virtual bookkeeping services allow business owners access to current financial reports, easily track income and expenses, generate cash flow and tax reports, and gain invaluable insights into their financial situation.
In addition, hiring a remote bookkeeper can save money in the long run by eliminating the need to purchase expensive software or hire additional staff.
Virtual bookkeeping business has considerable experience dealing with transactions and spotting any inconsistencies early on – potentially saving time and capital in the future.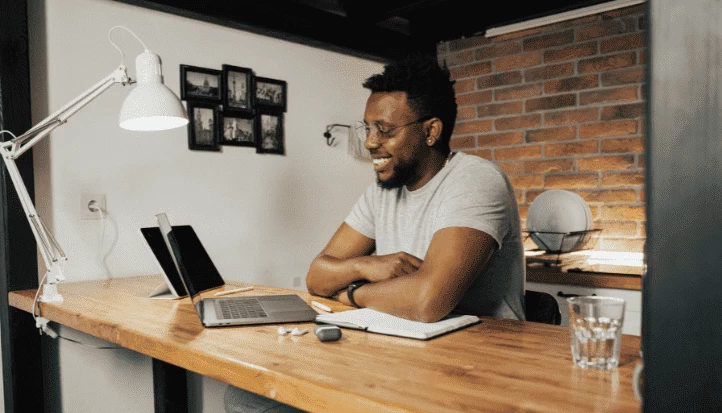 What is Virtual Bookkeeping?
Having reliable virtual bookkeeping can be a game-changer for small business owners. Not only do you free up valuable time and resources, but you also provide peace of mind with accurate bookkeeping that meets all necessary regulations.
Virtual bookkeeping services allow business owners access to current financial reports, easily track income and expenses, generate cash flow and tax reports, and gain invaluable insights into their financial situation.
Furthermore, all accounting tasks are securely handled by professionals utilizing sophisticated technology tools, ensuring that data is kept safe at all times. This eliminates the need for extra staff or costly software, rendering it one of the most efficient and cost-effective ways to manage finances.
How Can Virtual Bookkeeper Benefit Your Small Business?
Virtual bookkeeping services can help small businesses take control of their finances and unlock their growth potential. Experienced bookkeepers can provide the expertise needed to ensure that financial records and transactions are organized, accurate, and up-to-date, freeing business owners to focus on other aspects of their operations.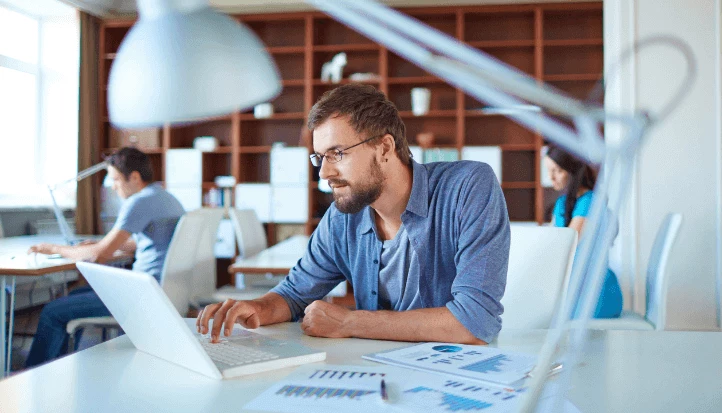 "How do they work with my business?". A virtual or online bookkeeper will use cloud-based accounting software or access a hosted virtual desktop to work with small companies. It allows them to securely manage financial information remotely and receive timely reports that give valuable insight into their finances.
In addition, hiring a remote bookkeeper can save money in the long run by eliminating the need to purchase expensive software or hire additional staff. Some examples of how virtual bookkeeping can benefit your small business include:
Streamlining Financial Record Keeping
Virtual bookkeepers employ secure cloud-based accounting software (Quickbooks Online Account, FreshBooks, Zoho Books, etc.) to manage financial transactions and data, allowing entrepreneurs easy access whenever needed. This process makes things easier by eliminating the need for manual data entry or tedious document examination. Furthermore, companies can quickly receive reports offering insight into their economic conditions.
Leveraging Bookkeeping Experience
Using years of professional experience, virtual bookkeepers can offer advice tailored to a small business's distinct fiscal demands and some exclusive bookkeeping tips. They are familiar with complex regulations and current trends in the industry and aid businesses in everything ranging from creating a chart of accounts to implementing modern methods like activity-based costing or sales tax compliance.
Additionally, virtual bookkeeping services can help small businesses with tax preparation services by tracking financial accounts, providing real-time updates, and offering high-level guidance. With advanced software tools, virtual bookkeepers can generate custom reports that accurately project future economic trends and help small businesses understand their current financial status.
Streamlining Accounts Receivable & Collections
Virtual bookkeepers simplify tracking collections by harnessing automated processes and up-to-date bookkeeping software, helping businesses get paid quickly and precisely. Automation also reduces time spent on the mundane task of entering invoice data or follow-up payments.
Reducing Errors & Improving Accuracy
With online bookkeeping, you can ensure that professionals can help you with intricate tasks such as number crunching and data entry; entrepreneurs can enhance accuracy while decreasing the risks of mistakes or overlooking certain factors from virtual bookkeeping.
Virtual bookkeeping business has considerable experience dealing with transactions and spotting any inconsistencies early on – potentially saving time and capital in the future.
Boosting Efficiency with Automation
Some modern bookkeeping software (QuickBooks Online, FreshBooks and Sage, etc.) now facilitates automated processes such as bank reconciliations and accounts payable/receivable monitoring, recording transactions, making it much easier for business owners to monitor their finances without taking out a large portion of their day sorting through paper trails.
Automation enables entrepreneurs to focus on other aspects of their operations, while virtual bookkeeping can take full advantage of this by removing redundant and tedious tasks.
Delivering Customized Solutions
Professional virtual bookkeeping provides customized solutions based on understanding an organization's unique needs. This ensures that enterprises always have access to specialized expertise while benefiting from optimum practices in financial management specific to their line of work or industry type.
The Top 6 Tips for Selecting a Virtual Bookkeeping Business
Finding the perfect virtual bookkeeping services is vital for small businesses wanting to guarantee accurate and up-to-date financial management and gain financial planning advice. To make an informed decision when selecting such a provider, entrepreneurs should consider cost, features, reliability, security, and customer reviews.
Here are six tips to help make the best choice: evaluate cost appropriately; explore features available; assess dependability; determine security measures; and read customer testimonials.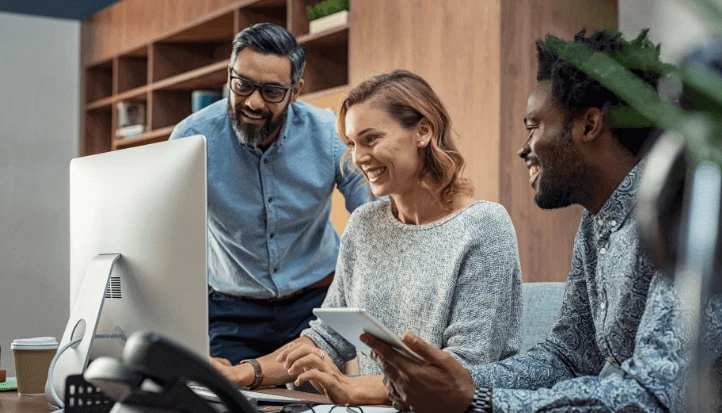 Understand Your Bookkeeping Needs
Before selecting a virtual bookkeeper service; it is vital to understand small businesses' present and future needs. Not only should they consider the type of accounting services required, but they also evaluate what level of expertise and ongoing support is necessary for your operations on a monthly basis.
You should also assess workloads on financial tasks and any specific regulations requiring extra attention. Additionally, it is essential to determine whether the service can quickly input customer invoices, payment receipts, and sales receipts in the relevant sections accurately and on schedule.
Moreover, a virtual bookkeeping service must be able to identify any discrepancies or incomplete records that need addressing before closing out books at regular intervals to keep oversight of finances throughout the year. You need to establish if there are enough resources available so that all accounts are processed promptly with minimal errors and check if the provider offers additional features like reporting capabilities or budgeting services.
Consider the Cost of Each Service
Before signing up with a virtual bookkeeper service, it is essential to research and compares costs between different providers. Online bookkeeping services include subscription plans, installation fees, setup charges, payment options, and any additional services or features included in the monthly price.
Additionally, entrepreneurs should consider any promotional offers that may appear from time to time and if they fit their budget and requirements.
You can ensure you get the best value for their dollar without sacrificing quality or customer support by researching monthly price before deciding.
For more information on selecting a virtual bookkeeping service that meets your needs, you may also like: How to Find the Right Virtual Bookkeeping Services
Evaluate the Features Offered by Each Service
Not only should entrepreneurs look into whether these features meet their objectives, but they should also inquire if they are open-source or proprietary software, as this can make a difference in future scalability and upfront costs.
Before settling on any particular service, it is wise to thoroughly evaluate available options so that companies can secure the best possible value from their investment. Companies should also ensure that adequate customer support is offered and any additional services, such as training and advice, are included in the package.
This extra step will help ensure a business secures the best solution for its needs and budget.
Research Reliability and Security of the Services
Before deciding which virtual bookkeeping business to use, companies need to do their due diligence and research the reliability and security of each provider. Companies should look closely at reviews from other customers and ask for references from trusted sources to gain insight into each service's reliability before signing up.
Additionally, businesses should inquire into any data security measures implemented by the provider, such as encryption technology, password protection, or two-factor authentication processes, so that sensitive information is safeguarded and protected against unauthorized access or cyber-attack.
These extra precautions will help ensure a business's data remains secure and confidential.
Read Customer Reviews to Assess Service Quality
Reading customer reviews is an invaluable source of information that can help businesses decide on a virtual bookkeeping service. By perusing customer reviews, companies can gain insight into response times and customer support quality that might otherwise go unnoticed or unappreciated.
In addition, these reviews can also provide feedback on other aspects of a service's operations, such as usability, ease of integration with other systems, and overall satisfaction ratings. All of this valuable feedback can be instrumental in helping businesses determine which provider best fits their needs and provides the highest level of service.
Make an Informed Decision with the Right Virtual Bookkeeping Services
With all of the above in mind, you can make a well-informed decision when selecting virtual bookkeeping services to meet your needs. Working with an experienced CPA firm with extensive knowledge and expertise in their specialized field can provide peace of mind and assurance that their data will be secure and confidential.
Are you looking for a solution to help manage your small business finances? Consider joining our expert virtual bookkeeping team, where we offer comprehensive services designed to streamline the process and keep track of financial data with accuracy and security. We bring years of experience and a dedication to helping our clients succeed financially:
Comprehensive financial record management with accuracy and security
Streamlined processes to maximize efficiency and cost savings
Experienced team of professionals with extensive knowledge in their field
Strategic guidance and insights tailored to your unique business needs
Confidentiality and privacy provided for all transactions
Contact us today for FREE CONSULTATION, and let us show you how we can help!