China's economic stability is encountering a significant challenge as Country Garden Holdings Co., one of the nation's prominent property developers, grapples with an impending default on its debt obligations. This situation underscores the complexities the government faces in revitalizing the real estate sector amidst a slowing economy, prompting concerns among investors about broader economic implications.
The Financial Dilemma
Country Garden, a substantial player in China's real estate industry, confronts the critical risk of failing to meet its debt repayment obligations. The company's substantial liabilities, amounting to approximately $194 billion at the close of the previous year, have proven more challenging to manage than initially anticipated. Anticipated financial losses of up to 55 billion yuan (around 7.5 billion USD) for the first half of 2023, compared to a prior-year profit of 1.91 billion yuan (around 260k USD), accentuate the scale of the predicament.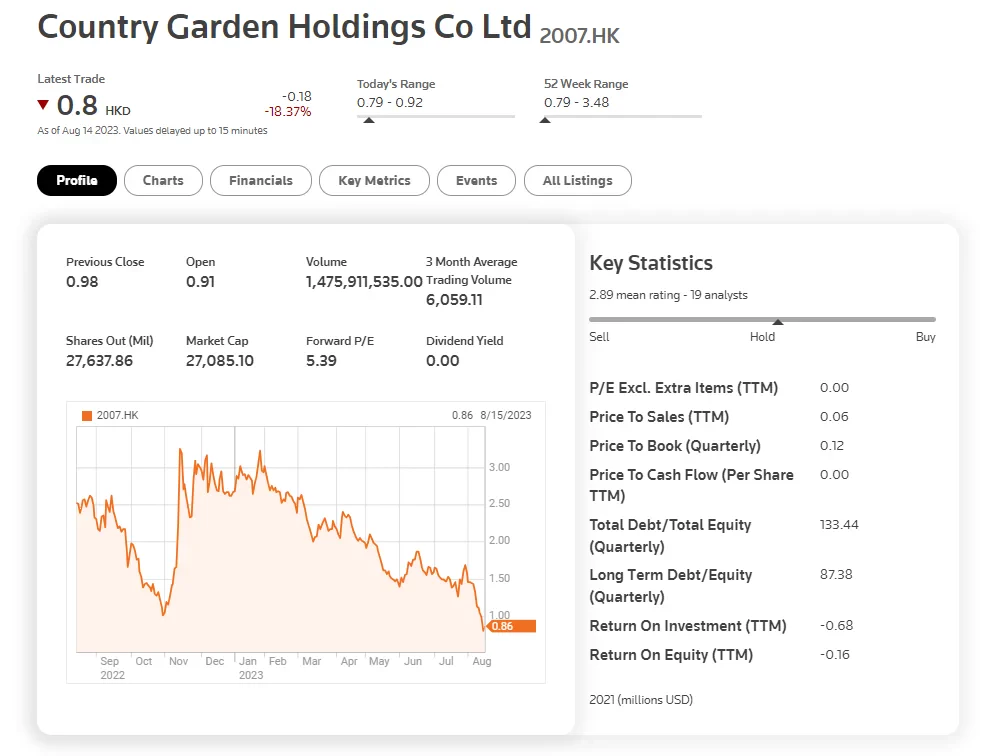 Economic Ramifications
The repercussions of Country Garden's liquidity crisis extend beyond the company's balance sheet, casting a shadow over China's macroeconomic stability. The real estate sector, historically a pivotal driver of China's GDP growth, now presents a potential obstacle to economic expansion. The substantial decline in the Bloomberg index tracking the country's high-yield dollar bonds, touching levels not seen since the preceding year, reflects the market's apprehension and underscores the gravity of the unfolding situation.
Investor Apprehension
Investors' concerns have been amplified as Country Garden's issue verifies the market's long-held suspicions about China's weakening real estate industry. "What Country Garden messaged in the latest announcement just confirmed investors' worst fears about the dire state of China's ailing property market," said Wee Liam Goh, a portfolio manager at UOB Asset Management. Despite concerted governmental efforts, including initiatives to ease mortgage terms, the crisis endures, and the sector remains ensnared in a cycle of default and deleveraging.
Government Endeavors
Since late last year, Chinese regulatory authorities have been diligently attempting to rejuvenate the struggling real estate sector. Accounting for a substantial fraction of China's GDP, the sector's revival is pivotal to broader economic recovery. However, the current challenge stemmed from a previous governmental push for debt reduction among developers, which inadvertently dampened housing demand and culminated in an unprecedented surge of defaults.
Uncertain Future
China's economic rebound, once promising after the pandemic's onset, is now encountering several obstacles. The ongoing financial turmoil at Country Garden coincides with weakening demand, evidenced by declining consumer and producer prices in July. Authorities assert this dip is temporary and consumer demand is rising. However, the looming crisis at Country Garden emphasizes the crucial role of real estate in China's economic recovery after the pandemic.
>>You also may be interested in: